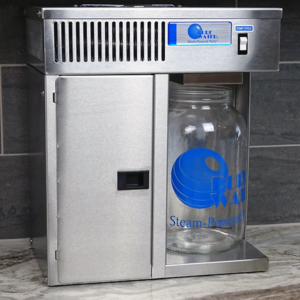 Mini-Classic Distiller, Counter Top (CT)
€878.95


Part # 46998V
UK Customers Please Note:
VAT Is Charged In The UK.
The Pure Water Mini-Classic CT Distiller:
The Pure Water Mini-Classic CT is a compact, countertop steam water distiller, constructed in Food Grade Stainless Steel throughout and that produces high-purity distilled water from virtually any freshwater source. This appliance does not require installation and is perfect for small families, apartment buildings and even RVs.
Produces consistently high-purity distilled water for all consumable uses.

No installation required.

Distilled water does not come in contact with plastic.

Easy to use.

Parts and Service back up.

Order On Line.