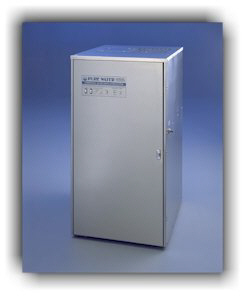 C-50/60 Industrial/Commercial Distillers. CONTACT US FOR A QUOTE!
€0.00
Please contact us for a quote.


FEATURES AND BENEFITS
"Improving the Quality of Life Through the Quality of Water — Worldwide"
APPLICATIONS: Pure Water Distillation Systems are in daily use in all fifty states of the U.S.A. and in more than 120 countries around the world. Hundreds of thousands of Pure Water systems have been sold and that number is growing daily.
Dozens of U.S. Embassies and Embassy personnel around the world rely on Pure Water distillation systems to provide high-purity water.
Many multi-national companies, such as Mobil, Chevron, Amoco Exploration, Shell Oil, Westinghouse and Uniroyal, utilize Pure Water, Inc. equipment as do government agencies, hospitals, clinics and health professionals.
HOW IT WORKS.....Feed water automatically enters the boiling chamber where it is heated with dual heating elements. The steam rises and enters the patented condenser where cool air from the blower fan cools the steam and converts it to distilled water. The distilled water flows into the fifty gallon stainless steel storage tank where it is monitored for purity and water level by the solid-state control system. The distilled water is pumped through a demand pump and post-filter to the intended point of use.
The C-50 has an easy access door with a control panel. For security purposes, this door can be locked. Produces high quality distilled water . . . Distilled water meets the specifications of U.S. Pharmacopeia. Up to 50 U.S. gallon per day capacity . . . Dual, interchangeable heating elements provide consistent production regardless of location. Consistent purity . . . Designed with purity alert protection. If water purity deviates, the system automatically shuts down. Compact . . . Small enough to fit in limited space application. Easy to install . . . Designed with quick-connect fittings for ease of installation. Inexpensive . . . Quality and functionality at an affordable price. Patented . . . Unique designs covered by the following U.S. and Canadian patents: 4,805,692; 4,906,337; DES.306,338; 4,888,097. Quality construction . . . Food-grade 304 stainless steel used through- out. 316 stainless steel available on special order. Reliable operation . . . Solid-state controls result in reliable perfor- mance. Low maintenance . . . Worldwide experience has shown the C-50 to have remarkably low maintenance. Ease of service and repair . . . Designed for ease of access.
OPTIONAL DEIONIZATION SYSTEM . . . A C-50 with an integrated DI system built-in. This system will produce 16 megaohm water that meets ASTM Class 1 requirements, as well as USP requirements. This ultra-pure water meets the needs of Pharmeceutical and Medical/Laboratory environments.
DENTAL CLINICS — for sterilization, oral irriga- tion, dental equipment. Coffee Service — drinking water for coffee machines. Medical Applications — for medical procedures, photographic processing. Cosmetic Companies — for preparations, labo- ratory uses, process water. Pharmaceutical Industry — for preparations, laboratory uses, process water. Hospitals — for laboratory uses, food prepara- tion, humidification, medical procedures. Electronic Industries — for cleaning electronic items, process water. p In addition to drinking water: Laboratories — for analytical, utensil washing. Restaurants — for food preparation, steamers. Plating Industries — for clean- ing surfaces. Schools — for laboratory uses, food preparation. Rest Homes — for humidification, food prepara- tion. Photography Businesses — for photographic processing.
DISTILLATION Nature's Process of Water Purification.....Every day nature is turning salty sea water into fresh rain water through a process of evaporation and precipitation. This is the basis of the distillation process — water is boiled thus killing the microbio- logical contaminants. The steam rises leaving behind virtually all of the contaminants in the water. The steam is separated and condensed to form high-purity distilled water. Distilled water meets the purity requirements of the U.S. Pharmacopoeia and can be used for drinking, cooking and a host of commercial and institutional uses.