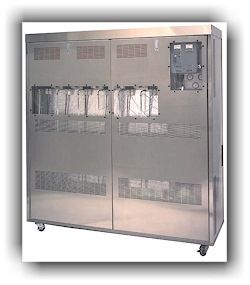 C-630 Industrial/Commercial Distiller
€0.00 incl. tax*
Please contact us for a quote.


The Pure Water C-630 utilizes state-of-the-art distillation technology and the
latest in design concepts coupled with multiple energy reuse resulting in a truly remarkable system. Today, more than ever, high purity water is demanded around the world.
Multi-Stage Commercial Distiller
Breakthrough product design
Patents pending
600+ gallons per day of fresh, high purity, distilled water
Easy Installation
The Pure Water C-630 is designed to be wheeled through a standard door for ease of movement prior to installation.
The C-630 is designed for operation in developed and developing countries and often in remote areas, so ease of operation has held a high place in design requirements.
Benefits of the Pure Water C-630
User friendly

Highly reliable!

Extremely simple design

Low maintenance

High energy efficiency

Space saving design allows unit to be pushed flat against wall

Only requires access from two sides

Color coded fittings and tubing

Easy Operation

Very few moving parts (relays, valves and one pump)

Designed for minimal maintenance

Easy access to all key components

No high speed motors, belts, or compressors that can create serious safety hazards

No critical adjustments to worry about

One year warranty
* Based on residence in Ireland. Tax rates for other countries will be calculated at the checkout. Price exclusive of tax: €0.00.